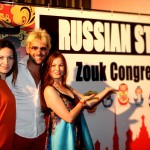 Kamacho is the latest Zouk sensation. In 2008, with less than 10 months of experience, he presented his own choreography in front of an audience of 1,500 at a well-known event in Rio de Janeiro. From then on, his innovative dance style continues to win him plenty of attention. Today, this young talent has developed into one of the most spectacular dancers in the world of Zouk.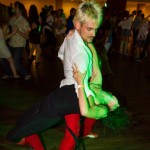 A gifted artist, Kamacho has done Ballet, Jazz, Hip Hop, Broadway Special, Contemporary and Modern Dance. His belief is that all of these styles help the dancer to improve on their musicality, creativity and freedom of expression, which in turn will enhance the body's ability to move to the sound of Zouk.
Kamacho is the fastest rising star in the Zouk world. This is because he is very diligent at attending events related to Zouk. He calls his own style "Lyrikal (with a "K" which stands for his own name Kamacho) Dance", the uniqueness of which excites a lot of Zouk people in both Brazil and abroad.
He performs and teaches in many countries of Europe and Asia, such as Switzerland, Austria, Russia, France,China, Czech Republic, Cyprus. His classes always full of people who want to learn Zouk in creative way and have "real fun " on the dance floor.







by